News & Event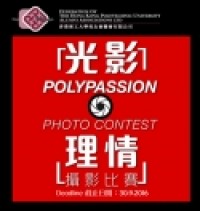 Entry Form Poly...st
PolyPassion Photo Contest: Call for Entries (Submission deadline extended to 14 October)
15 August, 2016 to 14 October, 2016
To celebrate PolyU's 80th Anniversary in 2017 and the establishment of the "Alumni Atrium", the Federation of PolyU Alumni Associations cordially invites all PolyU alumni, students and staff to take part in the "PolyPassion Photo Contest"! Photos can be taken by mobile phone or camera under the two themes of "PolyU People" and "PolyU Scenery".
Submission deadline has been extended to 14 October 2016 (Friday). Each category includes one grand prize and two merit prizes! All selected and winning entries will be displayed at the "Alumni Atrium" of PolyU.
Please click here for details of the contest and feel free to contact Alumni Affairs and Development Office at Tel: 2766 4102 or via email: alumni@polyu.edu.hk if you have any queries.