News & Event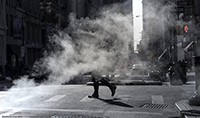 Register Now
Street Photography Workshop by Alex Ma (21 May)
Dear alumni,
We are pleased to let you know that Mr Alex Ma, our design graduate (1977) and an acclaimed designer and art director, will arrange a "Street Photography Workshop" for PolyU alumni on 21 May 2017 (Sunday). Details are as follows:

Date: 21 May 2017 (Sunday)
Time: 9:30am – 3:00pm
Quota: 30 persons
Programme: Time – Particular
9:30am – Briefing
10:30am – Go to Tai Po by MTR (self-financed)
11:00am – Take photos around Tai Po and lunch (self-financed)
3:00pm – Dismiss at Tai Po
Medium: Cantonese

During the workshop, Mr Ma will lead the participants to take pictures on the street and share his tips on capturing extraordinary moments and occurrences in everyday live. Participants will share their feedback and discuss ways to improve technique and imagery in the activity.
Each alumnus can sign up with a friend. For registration, please complete and return the registration form to AADO (Email: fhkpuaa@polyu.edu.hk; Fax: 2764 0326) on or before 16 May 2017 (Tuesday).
In case the registration numbers have exceeded the quota, allocation will be determined by drawing lots. Successful registration will be informed by email notification before 18 May 2017. If you do not receive any notifications by this date, your registration is not successful.
Please feel free to contact us at Tel: 2766-5123 if you have any queries.
With best regards,
Alumni Affairs and Development Office, PolyU