News & Event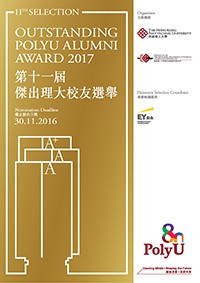 Nomination Form
Outstanding PolyU Alumni Award 2017 – Open for Nominations
31 October, 2016 to 29 November, 2016
We are pleased to inform you that the Outstanding PolyU Alumni Award (OPAA) 2017 is now open for nominations.
All graduates of PolyU (including its forerunners: Hong Kong Government Trade School, Hong Kong Technical College and Hong Kong Polytechnic, and its affiliates: School of Professional Education & Executive Development and Hong Kong Community College) are eligible for nomination. You are welcome to submit nomination and the nomination deadline is 30 November 2016. The nomination form and details of the selection are available at: http://www.polyu.edu.hk/aado/opaa2017.
Launched in 1996, the biennial OPAA aims to give public recognition to outstanding graduates of PolyU for their professional achievements and contributions to the community. With its presentation ceremony scheduled to be held in April 2017, the OPAA 2017 will not only add colours to the University's year-long celebrations of its 80th Anniversary, but also present a tremendous opportunity for PolyU to show its appreciation to the many graduates who have contributed to the advancement of society over the past eight decades.
Please contact the Organizing Committee of OPAA at tel: 2766-7758 if you have any queries. Thank you.