News & Event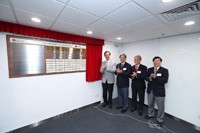 ​Click here for...t;
Meeting rooms at Alumni Atrium named after Federation of The Hong Kong Polytechnic University Alumni Associations
The Hong Kong Polytechnic University (PolyU) in recognition of the contributions made by the Federation of The Hong Kong Polytechnic University Alumni Associations (Federation) towards the University in the past two decades, has named two adjoining meeting rooms at the Alumni Atrium after the Federation. The naming ceremony was held on 27 March 2018 and was officiated by PolyU President Professor Timothy W. Tong, President of the Federation Mr Alex C B Wong, and Former Presidents of the Federation Mr Kenneth Pang Tsan-wing and Ir Johnny Fan Siu-kay.
Prof. Timothy W. Tong extended his profound gratitude to the Federation in his remarks for its tremendous support to mobilize its member alumni associations and gather alumni's support for University development, in particular through the "An Atrium for PolyU Alumni • A Legacy for Your Alma Mater" fund-raising campaign launched in 2017.
Located inside the Alumni Atrium on the first floor of Chung Sze Yuen Building on PolyU campus, these two adjourning meeting rooms occupy a total floor area of 50m² and provide a convenient, comfortable and well-equipped venue for all kinds of activities such as meetings, seminars and gatherings organized by the alumni associations.
The Federation of The Hong Kong Polytechnic University Alumni Associations was established in 1995 to unite all alumni bodies and to strengthen the ties amongst alumni, as well as to support the development of the University.
The Federation is holding a photo exhibition themed "Close Ties • Cherished Memories" which presents a collection of the Federation's memorabilia and event photos at the Pauline Tsang Po Yan Gallery, Alumni Atrium from now till 30 April 2018 (Monday – Saturday). All visitors are welcome.