Workshop on tips on conducting online meeting and webinar for alumni leaders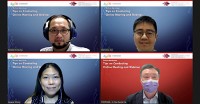 ​On 25 May 2021, PolyU Alumni Affairs and Development Office and Public Relations and Alumni Activities of the Federation of The Hong Kong Polytechnic University Alumni Associations (FHKPUAA) jointly organized an online workshop on "Tips on Conducting Online Meeting and Webinar". Around 40 local alumni leaders attended the event.
Representatives from the Information Technology Services Office of PolyU, The HK PolyU MBA Alumni Association and the Young Alumni Sub-committee of FHKPUAA introduced various online platforms and shared practical tips on how to set up an online meeting and organize a webinar. The participants were pleased to learn the useful tips from the facilitators. Ir Yau Kwok Fai, Convenor of the Public Relations and Alumni Activities Sub-Committee of FHKPUAA, encouraged the alumni associations to make use of the online platforms to engage their members in the new normal.