News & Event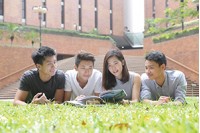 Act Now
FHKPUAA Bursary
26 June, 2020 to 31 August, 2020




Dear FHKPUAA cardholders,
How would you use the $10,000 Cash Payout disbursed by the HKSAR Government? Would you like to join us to contribute it to our alma mater and support the students in need?
The Federation of The Hong Kong Polytechnic University Alumni Associations (FHKPUAA) will set-up the FHKPUAA Bursary to unite PolyU alumni community to relieve the financial hardship of PolyU students in need and show our support to our alma mater.
To kick-start this initiative, the FHKPUAA Officers (including President, Vice-Presidents, Honorary Treasurer and Honorary Secretary) will donate 100% of the cash payout. We also appeal to you and all our alumni and supporters to contribute to this meaningful cause.
For enquiries, please contact us at tel: 2766 5123 or via email: fhkpuaa@polyu.edu.hk
Yours sincerely,
David Ng Kin-ching
President, Federation of PolyU Alumni Associations (2019-21)